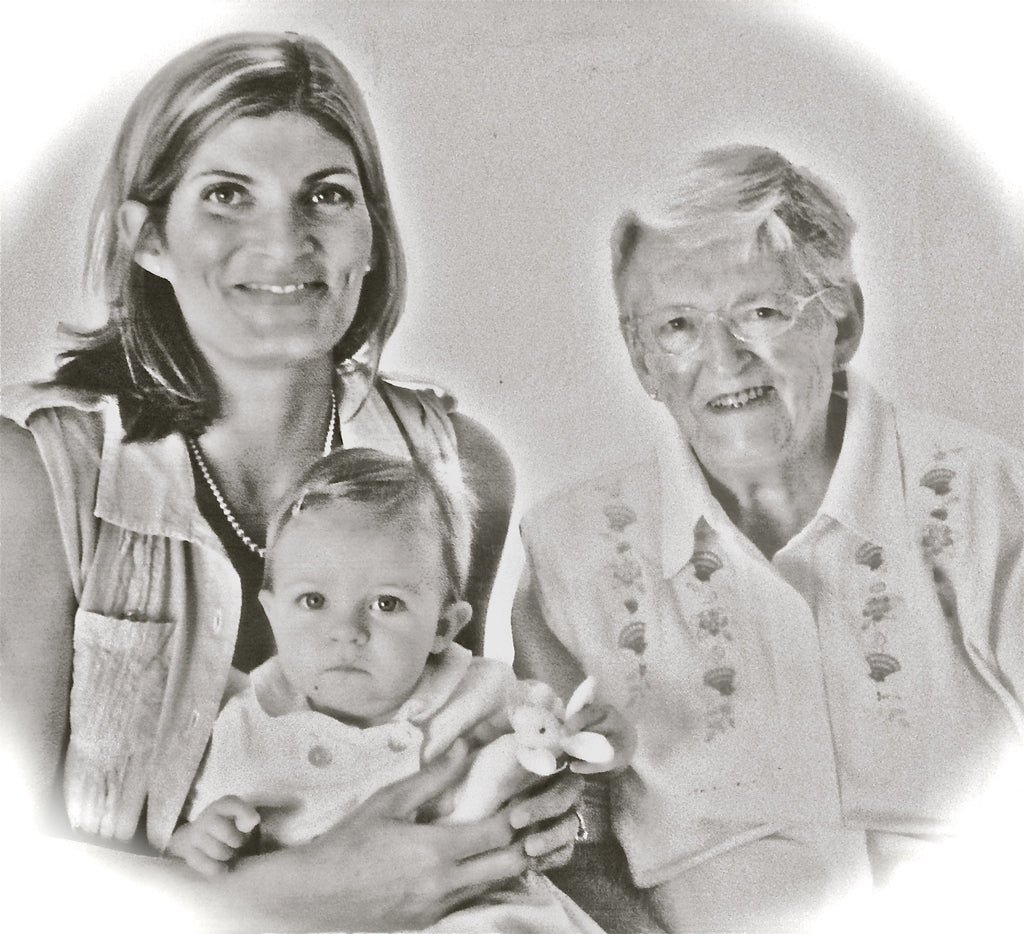 Photo: Me (in my great-grandmother's pearls) with my grandmother and daughter, September 2005.  
I love pearls for their history....
I love that they are the world's oldest and most feminine gem; and that they were prized, pursued, and bestowed upon royalty for thousands of years. I also love that their beauty tells the story of their lifetime. Their shape, size, color, luster, and nacre are a record of time and circumstance, hardship and HEALING. I call it beauty born from struggle.
Today; however, I was reminded of another type of pearl history.

This morning, I had a customer visit my studio with a strand of pearls that belonged to her late mother.

She asked me to re-purpose them into pieces for her daughter, daughter-in-laws, and herself. She spoke of the "women in her family", and "the memories of her mother wearing her pearls".....

She didn't share too many details, but there was a beauty in her eyes that conveyed more than words ever could. And as she spoke, memories of my own grandmother - giving me her pearls - came flooding back to me.

When my grandmother gave me her mother's pearls, she didn't say a lot either. There's something about the giving of pearls that needs little explanation. But today, sitting with this woman in my studio, I could hear the words they didn't say. 

Pearls are passed down from generation to generation because they symbolize WOMANHOOD.  They represent love, family, struggle, pain, suffering, hardship, and the BEAUTY of it all.

They say:
"I've been where you are."
"It won't be easy, but you can do it, and it will be worth it."
"Remember who you are, where you come from and that YOU ARE LOVED"
 As I think back on it, every other reason to wear pearls seems small. Honestly, I care less about the fashion of the royals and more about the dedication of the women who have loved us. They valued us, supported us, strengthened us & made us feel beautiful. They gave us the best of who they were, and left us a legacy of memories (and pearls) that will transcend the test of time. I can't think of anything better than that.
What do you think?
Have you had pearls passed down in your family? What do they mean to you?

Let me know in the comments below, or email me at Sarah@milkvelvetpearls.com.
 Encourage each other & build each other up. - 1 Thessalonians 5:11
 THE FINISHED PIECES
My customer's later mother's pearls repurposed into modern 14k gold-filled and sterling silver jewelry for the women in her family.