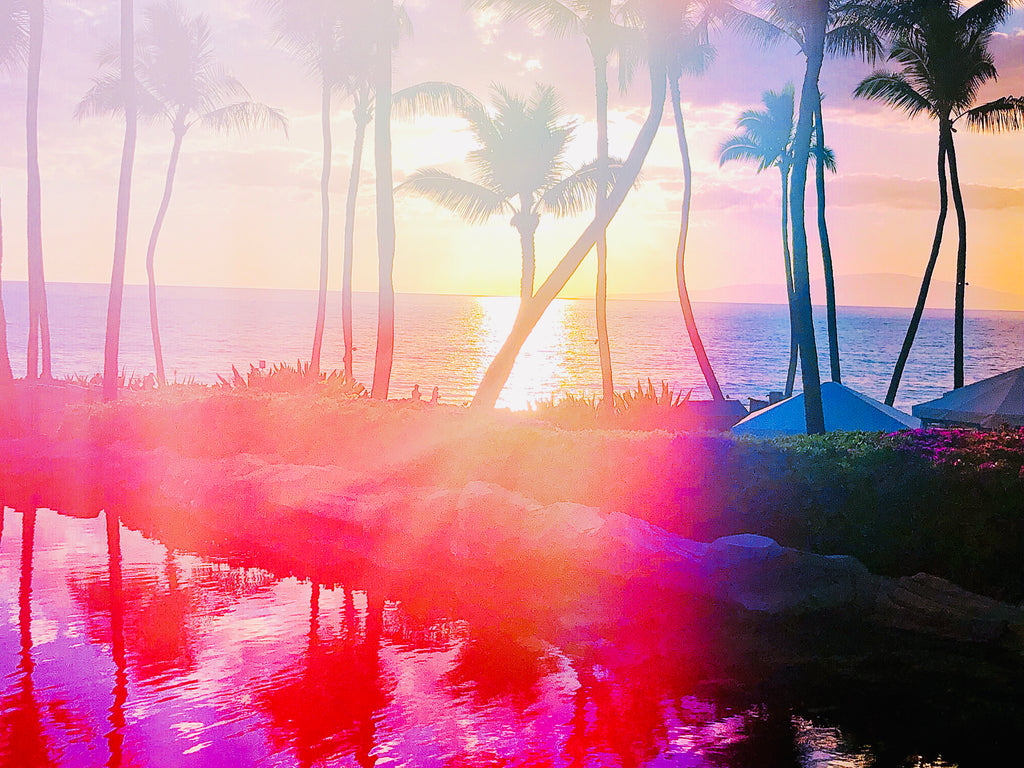 It was March 2014 when I had the epiphany that the pearl was a metaphor for my life, and I decided that was going to make pearl jewelry to share my testimony of faith.
People often ask me if I had always made jewelry, and the answer is No. I had never made jewelry before, but I liked to work with my hands and was determined to learn. I watched YouTube videos, searched for pearls online and visited a local bead store for help.
The first pieces I made were a gift for my friend Evelyn who was moving. I chose blue-green apatite semi-precious stones (to bring out her eyes) and simple baroque pearl centerpieces (to match her casual, sporty style). I presented them to her on inspirational cards from Michael's tied with a bow. She loved them. 
And so did all my friends at her going-away party.
It was then that I told them all about my idea to make pearl jewelry as my testimony of faith. My friends knew my struggles and had seen how God had answered our prayers and worked in my life. The encouragement they gave me that night was incredible. 
(My friend Evelyn wearing my very first pieces. )
      ( Apatite choker with baroque pearl)
 (Apatite bracelet and earrings)
Right after that, in April 2014 on a very long flight to Hawaii, I worked up a business plan. When we landed, I had a detailed spreadsheet and 3 possible names.
Shedding Shells 
Cadeau (French for present, gift)
Milk Velvet Pearls
It all seemed like a good idea on paper. And then it didn't.
I didn't know anything about jewelry.
Or fashion. Or retail.
My experience was in construction and civil engineering, and I didn't even wear jewelry!
But after a few days in Hawaii, my vision became clear. We were there for my husband's business conference, and although I had imagined that it would be beautiful, the magnificence of the island touched me in a way that was unexpected and profound. 
I remember sitting in this exact spot, looking out at the ocean thinking:
"God is here."
"I need to tell people about my experience."
"I need to tell people like I used to be. I need to tell the skeptics and the hopeless, that there is hope."
And so I went back home, and decided that I would try. I would try to make pearl jewelry to convey God's grace.   
My sister helped me with my logo, first with her incredible pastel pearl drawing, and then with her artist's eye to help me choose the best of the samples from the graphic designer.
(concept logo April 2014) 
 (final logo May 2014)
I opened my shop on Etsy on Mother's Day 2014, and since then the response has been overwhelming. I've researched, studied and labored; made a million mistakes and joyfully celebrated each little success. God opened door after door for me, and I raced through each one as fast as I could. For three years my work cycled through times of creative explosion followed by personal burnout. 
And then I realized that my family was in trouble.
I was in trouble.
I had read somewhere that if you want to quit - rest.
And so I've done quite a lot of resting since 2017. But now I feel I am being re-born. Again. And the artist in me is coming back to life.
Today is April 9, 2019: exactly five years after I came up with the idea to start a pearl jewelry company. 
We just returned from another conference in Hawaii and it brought back all the memories. I remembered the reason I started, the early start-up days and all the late nights. I thought about my life, my family, my faith and how much has changed since 2014. 
"Beauty born from struggle" has taken my whole heart, and become my whole life.
I had no idea 5 years ago that I would meet so many brave, beautiful people and hear so many miraculous God stories. I had no idea that my own faith would be tested, broken and rebuilt in a glorious fashion.
I had been so sure that God wanted me to tell others about Him for their sake. But now I know, that Milk Velvet Pearls has been for my sake.  He knew that I was going to need Him, and a deep connection with people who lifted me up.   He knew that the hard times would keep coming.
I am so grateful for the support you've given me over the years. Grateful for the inspiring stories you've told me. Grateful for your prayers and encouragement. Grateful for the opportunity to share my story and to be on this journey with you. 
I've spent much of the past 2 years learning about addiction and codependency; and healing parts of myself I didn't know were broken. Facing my son's drug addiction, fearing his  overdose/death, examining myself as a mother, and looking at all the pain of my past nearly killed me. But when I came to the end of myself, God was there.   
And what I thought was our tragic ending has become our saving grace.
I have come to understand so many spiritual and encouraging truths about life, health, and recovery. I found my power in powerlessness, and the true meaning of "losing your life to find it".
God's grace is a powerful concoction of acceptance, forgiveness, compassion, peace, strength and miracle. This month my son is 21 months clean. He's got a brand new life now. And so do I. 
Beauty is born from struggle.
I now live each day with gratitude and the confidence that no matter what happens, I am going to be okay. Every day, I give myself to His will, and trust that He will get me through it. And it's the most beautiful place to be. 
And as a pearl jewelry artist, I'm finding myself drawn to Tahitian pearls for their extraordinary beauty. Their dark, colorful, and complex beauty is unlike anything else in the world. 
They feel like my celebration of victory, and a true representation of God's perfect timing.
I have much to share with you. I hope you'll stay tuned for more stories of grace, and more pearls.
In all things, at all times ~ be faithful. 
XOXO,